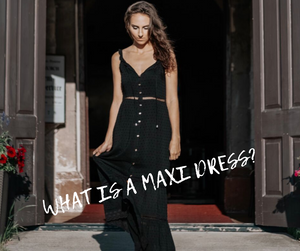 WHAT IS A MAXI DRESS?
Model:  Manda Roels @wonderandwanderco                                                        Photographer:  Devin Lang @devinnlangg
Are you shopping for a new dress?  It's probably time you start experimenting with maxi dresses because a maxi dress isn't just an article of clothing, it's a lifestyle.  A lot of women believe that maxi dresses are difficult to style.  They tell you that you've got to be an Instagram model to pull one off, but that's not true. There are several ways you can style a maxi dress for your specific body type.
What is a Maxi Dress?
A maxi dress is an ankle length informal dress.  Maxi dresses are formfitting at the top and loose flowing at the bottom, cut to flow over the body and not all dresses will look alike.
Maxi dresses are made of a variety of different materials so they can be worn in spring, summer, fall, and winter and look your best.  They are usually made out of cotton or polyester and come in a variety of necklines, colours and patterns. 
They can be under and overdressed easily, paired with other stylish pieces, or worn alone.  Owning a maxi dress means that you've got an elegant piece that you can wear any way you like.  However, lots of women are scared of these dresses because they think that they make them look too short or too fat.
Get comfortable with a Maxi dress…..
The first, and perhaps most obvious reason to wear a maxi dress is that you can put on literally one thing and be fully outfitted for the day or evening.  One of my favourite parts about summer is that you can just throw on a breezy maxi dress and look instantly cute and put-together.  Meanwhile, in fall and winter, there's really no such thing as a throw on and go outfit.  Even if you're going with my favourite go-to winter piece, the sweater dress, there's tights to contend with, and then you're still freezing because even with wool ones, they're never that warm.
With a maxi dress, you get all the fun and festive-ness of a dress but also, there's no reason to skip that early fall outdoor event.  The perfect length to keep your legs protected from any offending drop in temperature, a maxi dress is like climate control from the ankles-up.  You get the fun and comfort of a dress, with the warmth of pants.
How about in a Winter season?
As the temperature drops, you can choose heavier fabrics and darker colours.  Add a leather jacket and you'll be good to go.  Maxi dresses are also excellent to wear on special occasions.  That's why I love wearing maxi dresses in winter. They're long and breezy so you can layer leggings or heavy tights underneath.  Yes, layers under and/or over are still required, but unlike your standard short or even midi-dress, I love how maxi dresses are an unexpected option for winter.
The best part?  You don't need to buy a new set of maxi dresses for cold weather.   Just follow these tips for styling your favourite maxi dresses for winter.
Tights or leggings underneath.
Ankle or knee boots work. Or try sneakers for a more comfy option. Heels work for dressier occasions.
Layer a thin turtleneck underneath your maxi dress.
For added warmth, try a moto jacket, chunky cardigan, or fur vest on top. 
Top with a chunky sweater to turn your maxi dress into a skirt. 
---