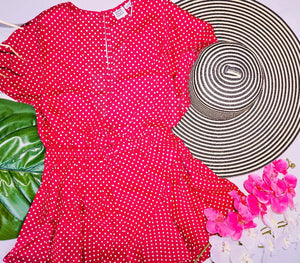 SUMMER GIVEAWAY!!
The Summer Giveaway was a huge success!  Shout out to all those who joined the contest!  The winner received a beautiful polka dot play suit and a harvestbeautyfashion hat! These items were valued at $160. 
We got lots of positive feedback and we truly appreciate the #love.  Thank you for sharing #harvestbeautyfashion with your BFF's.  For those that Followed @harvestbeautyfashion, Liked the post, And Tagged 5 beauties; we had 60 qualifiers that were entered in the draw. 
The lucky winner was randomly picked, and please check out the video #it is time😊on Instagram. It was a great Friday for the lucky Winner 😃 @happy.daze23 ! Congratulations 😘 cool job!
happy.daze23 was so excited and loved the polka dot play dress and hat. happy.daze23 was ready with this fabulous and classy ensemble to rock out the rest of the summer!   
happy.daze23 "Omgsh no way!!!! Thank you SOO much!!! Wow!!! ❤😍❤❤❤😍😍"
We are also very grateful to our harvest beauty babes #hbfbabes for sharing the pics and videos of them wearing their favoruite harvest beauty fashion looking absolutely gorgeous!  Check these beautiful ladies out on our Instagram @harvestbeautyfashion!
There is some excellent feedback we received, we have made it easy to add in the "Tell Us What You Think" section in the pulldown menu on are website.
Please give us your comments anytime so we can make the best online shopping experience for you at www.harvestbeautyfashion.ca.
Norika Daito: "Loving my new Dress from @harvestbeautyfashion I would definitely recommend their store! Xoxo."
Raquel Collins: "I have the bag and love it! Used it all summer. Goes with everything. It surprisingly holds quite a bit too and with the fabric sides things don't fall out."
We thank you ladies for the awesome feedback and we are delighted that you are so happy with the merch.
Huge thank you to all!  We will run another contest again very soon! 💋 so keep following us, like our profile and keep sharing with your bff's! 🌸
Thank you
HB😊
---